SyberVision
™

—

A Pilots Cockpit

SyberVision™ avionics by Honeywell is onboard every SJ30. Designed to be intelligent in single- or dual-pilot operations, SyberVision™ is sophisticated and intuitive. SyberVision™ features SmartView™ synthetic vision system (SVS),  interactive navigation (INAV™) map displays, electronics charts and maps, a fully functional flight management systems (FMS), unique options which provide new capabilities, and the flexibility to effectively meet new airspace mandates.

SyberVision features: Up to four 12 inch liquid crystal displays and includes as standard SmartView™ synthetic vision system (SVS), INAV™ moving map display system, electronics charts/maps, TCAS II, TAWS Level A, synoptic displays, dual flight management systems (FMS) with dual WAAS GPS/LPV, onboard weather radar, full EICAS, aircraft system commands incorporated into the MFD, electronic checklists, envelope protections, DME, ADS-B Out, and 0.3nm RNP as well as support for FANS-1A, SmartLanding™, SmartTaxi™, SmartRunway™, TOLD, and emergency descent mode, and RVSM operations. Options include; CPDLC, XM weather, IRS, flight data recorder, cockpit voice recorder, dual charts/maps, HF radio, SATCOM, ADS-B In, enhanced vision systems, second MFD, and other customer specified items.

Read More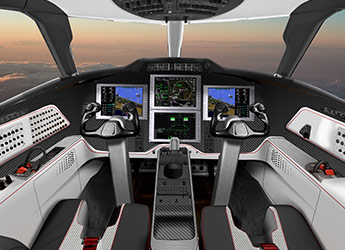 SyberVision
™

—

Seeing Through the Clouds

Honeywell's SmartView™ is internationally recognized for its breakthrough flight crew interface technology. It provides pilots with a clear depiction of the terrain and potential obstacles exactly as they would see them looking out the cockpit windscreen, regardless of outside weather conditions. SmartView™ provides the flight crew with information often found in larger jet HUDs, but presented in a traditional head down environment. The new HUD-like symbols include a flight path marker, a path-based flight director runway outline, acceleration cues, zero pitch line and runway lead-in line.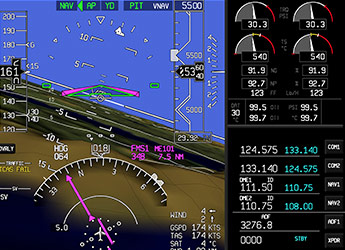 INAV
™

—

A Pilot's Perspective

Honeywell's patent pending interactive navigation (INAV™) map system enables crews to update and modify flight plans, waypoint lists, and all navigation objects with its patented graphical flight planning capabilities. INAV™ merges navigation and sensor data onto a single display and layers information including terrain, traffic and weather to provide pilots unmatched situational awareness on a single display. Worldwide navigation data includes terrain, airports, airspace, airways, navaids and geopolitical boundaries.